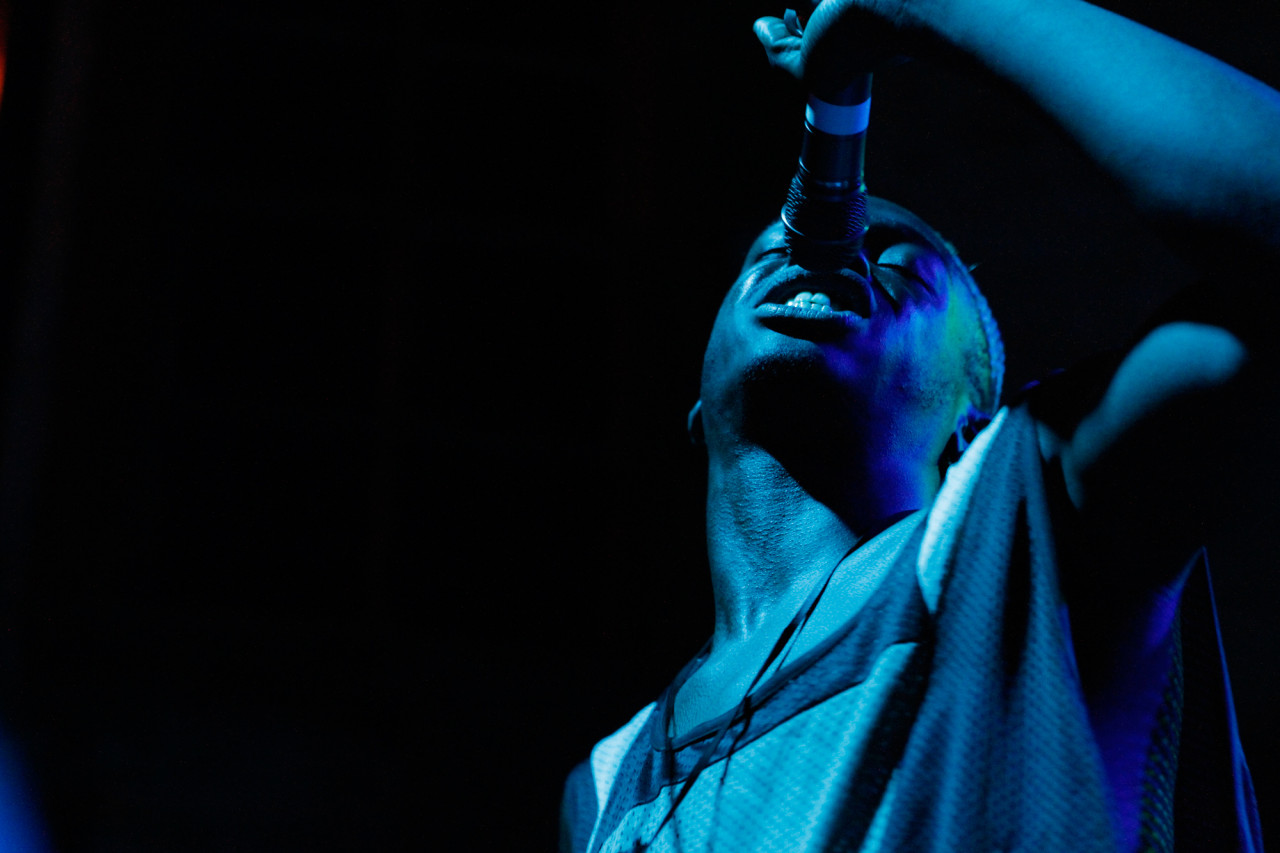 Every year at South By Southwest there's a whole slew of high profile stars who drop in with big time shows, taking advantage Austin's complete media saturation and keeping them firmly in the spotlight. When you hear complaints about SXSW getting too commercial and taking eyes away from smaller acts slogging through many shows a day and fighting to get heard, this is what they mean. In hip-hop, that seems especially true when in recent years Kanye, Jay Z, Snoop, and many more show up with much hype. Still, it's always possible to find new acts, especially when you cannot get into those packed late night shows. And every year there's a few names that rise above the fray: Danny Brown, Kendrick Lamar, Action Bronson, Big K.R.I.T. and Chance the Rapper have all had recent breakthrough sets at SXSW on their way to bigger things.
Last year, one of those names, for me, was Le1f, who I caught at NPR Music's showcase at Stubb's.
Watching Le1f perform live, it's clear you're witnessing something unique. The magnetic New York rapper commands the stage with choreographed dance moves and wild body gesticulations, often culminating with Le1f taking down his long hair and whipping it around in a cyclone of braids — all while spitting his idiosyncratic, deep-voiced wordplay without skipping a beat.
It's all the more impressive because Le1f (born Khalif Diouf) takes his performance as seriously as his rhymes: he studied ballet and modern dance, earning a degree in dance from Wesleyan University; he's a fashion icon with a so-called "hoodrat Tumblr aesthetic;" and he's known in the LGBTQ community for being both out and proudly outspoken. It goes without saying that Le1f is a very different type of performer and personality in the mainstream hip hop scene, and a welcome one.
Now, following last year's SXSW, the unreal success of his "Wut" music video (which now has nearly 2M views), and a pair of stellar mixtapes — 2013's Fly Zone and Tree House — the MC and producer looks poised for a major breakout in 2014, with his just-released major label EP, Hey, and a full-length record in the works.
Le1f's dance-ready music is edgy and experimental, mixing dark electronic tracks with big beats and rapidfire phrasing. And while the production is always ambitious and borders on the avant garde, these songs will still get you moving on the dance floor in a hurry.
It will be cool to watch Le1f this year, and see if his music reaches a wider audience.